We Share Your Passion....





Ukiyoe Gallery is not only an online gallery of over 2,000 Japanese woodblock prints ("ukiyo-e" and "shin-hanga"), but is also an extensive "Library" of reference articles about Japanese woodblocks, publishers, artists, printmaking techniques, and advice for collectors.

Our Guarantee

All woodblock prints purchased from Ukiyoe Gallery are guaranteed to be genuine. Furthermore, we guarantee your satisfaction. If you are unhappy with your purchase for any reason, prints may be returned within 7 days of receipt for a full refund of the purchase price, less shipping costs (a very few exceptions apply--see our "Terms" page.)


Our Reputation

First and foremost, we are both ourselves collectors and enthusiasts of Japanese woodblocks. So we do really know what it means to experience the satisfaction of adding that "just right print" to one's prized collection.

In addition to our both being longtime collectors, before opening Ukiyoe Gallery, we first sold together over 2,000 prints on eBay's Auction site and established a very loyal clientele in doing so. On eBay, it was always our policy to fully describe and accurately disclose the condition of each and every print we sold, with careful attention being paid to the inspection of each print. Thusly, we built our business and personal reputations on this policy of full disclosure.

Continuing with what has made us so successful, here at Ukiyoe Gallery we apply this same critical analysis to each and every print we sell--the same you would want to do if you were actually holding the print in you own hands and examining it yourself. Much of our ability to accurately and discerningly evaluate (and then describe) a print's condition comes only with experience, and we've now sold well over 3,000 prints together. We also "deliver what we promise," with special attention given to the careful packing of all prints sold. In doing so, we've established a record of very secure and dependable shipping, to the envy of many of our competitors.

More recently then, here's what a few of our many Ukiyoe-Gallery customers have had to say about us.


"Worlds Apart"

As co-associates of Ukiyoe Gallery, oddly enough, our business relationship spans two continents and is separated by over 5,000 miles. When the sun goes down on the westcoast USA for Thomas Crossland, it's the dawn of another new day in Japan for Dr. Andreas Grund. Emails are frequently exchanged several times daily, confirming orders, exchanging technical information, and often, just sharing the shear joy of collecting these "silly broadsheet slips of paper" collectively known the worldround as "Japanese woodblock prints."

In Japan where he has now been a 16-year resident, Dr. Andreas Grund's long, close, and direct access with a large variety of Japanese publishers and dealers has resulted in a wide uncovering of new information in the study of 20th century Japanese prints. Countless hours are spent throughout Tokyo by Andreas in the pursuit of not only "just the right print," but also in seeking and recording much valuable new information about artists, publishers, carvers, and printers hereto unknown to the western world. Resulting from this research have been numerous technical articles in the field of "shin hanga" prints.

In early 2001, Andreas completed an exhaustive 2 year research project, culminating with the release of a scholarly reference which he aptly titled "Shiro Kasamatsu--The Complete Woodblock Prints." This authoritative reference is now recognized by collectors around the world as "the reference"--containing nearly 300 prints by artist Shiro Kasamatsu.

A tireless researcher and contributor to many woodblock print "discussion forums," Dr. Grund is both an experienced collector (of "shin hanga" and "sosaku hanga" prints) and an acknowledged world authority in the field of 1900ís Japanese "shin hanga" woodblock prints. As a researcher, Dr. Grund's name is well-known around the world--among friends, he is affectionately known simply by the nickname of "Man no Sleep."


Stateside USA, co-partner Thomas Crossland has also authored several short technical articles about Japanese woodblocks (one co-authored with Dr. Grund) and currently has several other writing projects now underway. Much of his seeming mastery of the Japanese language (in prints' "title" translations) is instead rather due largely to the painstakingly accurate efforts of his native-born Japanese wife, Hisako, who is herself an experienced professional technical J/E, E/J translator.

A lifelong admirer of Japanese woodblocks, Thomas has held a deep and long-standing interest of "old Japanese culture." It has thusly been his good fortune to have blended together this avid passion of collecting woodblocks with his sincere enthusiasm in sharing this interest with others. He is also an enthusiastic admirer and collector of other "old Japanese antiques," including a number of antique Japanese scrolls and lacquerware pieces.

Thomas has traveled widely throughout Japan--including two lengthy solo bicycle trips of 21 days/1,000 miles and 12 days/600 miles done in 1995 and '97 in search of "old Japan"--as well as numerous other trips throughout Japan by more conventional means. Highlights of this memorable trip were written about by Thomas in a 1995 newspaper article titled "Pedal Mettle."

Speaking of woodblocks, he has mused:



"Words such as "dreamlike," "hypnotic," and "mystical" do not
seem to even fully describe the degree to which these magical
works of art move me. But, in their viewing, I find myself clearly
taken from the present and moved back in time....."




We Share Your Passion

Clearly, Japanese woodblock prints are deservedly among the most widely admired and most widely collected treasures of the art world. The Japanese artisans have so completely captured the beauty and essence of their native land, that it is with awe and admiration that we are today able view the recorded visions they've left us in the form of woodblocks.

We enthusiastically share your passion for woodblocks.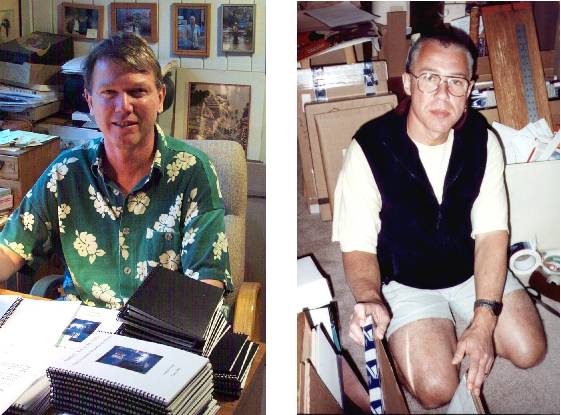 Dr. Andreas Grund (Tokyo, Japan) -- Thomas Crossland (Keizer, Oregon, USA)






---


If you have any questions about Japanese woodblock prints, please email us at Ukiyoe Gallery, or call us at (503) 362-8362.


[PLEASE NOTE: "Print identification" is NOT a service that we provide. Being asked to identify, translate, and place an estimated value on prints owned by others could easily involve several hours of our time each day. Unfortunately--We have neither the time nor resources to reply to such requests.]



Not sure what time it is??..... Just above is the CURRENT TIME at Ukiyoe-Gallery.com's westcoast USA (Keizer, OR) office.
(Please--Consider the time before calling.)
(c) Thomas Crossland and Dr. Andreas Grund, 2001-2012 (Updated Dec 2006)
Home
SiteMap
Gallery1
Gallery2
Gallery3
Gallery4
Gallery5
Gallery6
Gallery7
Gallery8
Gallery9
Specials
New Stuff
Terms
Ordering
About Us
We Buy Prints
Library
Books